IUPAC Name :
(E)-but-2-enedioic acid;8-chloro-11-[1-[(5-methylpyridin-3-yl)methyl]piperidin-4-ylidene]-5,6-dihydrobenzo[1,2]cyclohepta[2,4-b]pyridine.
CAS Number :   182349-12-8
Structural Formula :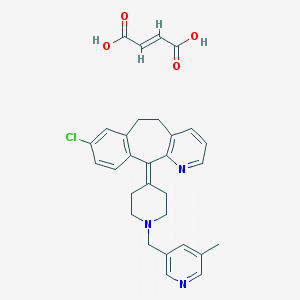 Molecular Weight :   03  g/mol
Molecular Formula:   C30H30ClN3O4
Features of the API :
Rupatadine Fumarate is a dual antagonist of histamine H1 and platelet-activating factor receptors.
Manufactured in an USFDA, WHO GMP, ISO 9001, OHSAS 18001 approved site.
Available in standard pack size of 25 Kgs Net packed in HDPE Carbouys.
Mechanism of Action :
Rupatadine is a second generation, non-sedating, long-acting histamine antagonist with selective peripheral H1receptor antagonist activity. It further blocks the receptors of the platelet-activating factor (PAF) according to in vitro and in vivo studies.
Rupatadine possesses anti-allergic properties such as the inhibition of the degranulation of mast cells induced by immunological and non-immunological stimuli, and inhibition of the release of cytokines, particularly of the tumor necrosis factors (TNF) in human mast cells and monocytes.