Dr Sunil Singh, CHRO, on World Happiness Day, talks about what is essential to stay happy in one's professional journey through a beautiful story.
Today is World Happiness Day. In the midst of global COVID 19 crisis; I was wondering whether to write this or not. But finally Happiness won over Gloominess. I took this as a sign of what is probably going to happen to the entire humanity. We will win not only the COVID war but also all future challenges thrown at all of us.
Few days back, I was walking through the corridors of my office and i was attracted by bright happy flowers. I kept walking along those bright flowers, they seemed so happy and bright. Suddenly a thought struck me, how did I miss these happy and bright flowers last year. After a while I realized that these flowers were not there in this form last year.
However I distinctly remember spending extra money on the garden last year. Probably I had deployed a huge number of contract workers as well last year. I was still wondering how these bright and happy flowers were not there. I decided to go down the memory-lane and shuffle old memory files which were probably still intact even after my rendezvous with some neuro-surgeons and critical care specialists. A special thanks to Dr. Somesh Desai, Dr. Manoj Singh, Apollo Hospital Ahmedabad, and their entire support professionals for bringing me back from my crisis. Today I am writing this happiness story because of all of them.
What I recall is that for a large part of time we were busy digging the garden. We probably had some flowers because we planted pre-bloomed flowers. They looked good for few days but after a week or so we again dug our garden and planted new set of pre-bloomed flowers. This story repeated many a times last year resulting into probably higher costs. At that cost we had a beautiful green garden but we missed bright and happy flowers.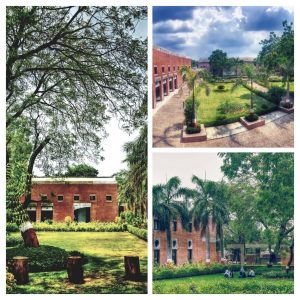 So what we was it that we did differently this year which resulted in such a beautiful new garden. These flowers were so bright and happy. We must have done something differently this year. I decided to visit my recent memory files. I got my insights very soon. I will dwell upon them and help bring out some insights for all of us and how we create happiness. Before all of that let's look at how the new garden at the same location looked this year.
#HappyGarden
Now you can notice the #HappyShift of the garden. It was the same place, and happy transformation happened. We spent less this year and less people invested their energy, so what made the difference:
We dug the garden only once
We were happy without flowers for quite sometime
We watered these plants regularly and were happy to just see them grow
Enjoyed this scene of Bright , Colorful and Happy Flowers
I realized that there are lots of insights which we can draw from this #HappyShift of Garden. There are lessons for all of us as to how we can be more happy and bright. By doing that we will make environment around us more bright, colorful, and happy. What are these insights which can make our own #HappyShift
Know that you cannot keep digging your garden and expect that your seed will become plant. Have faith in your ability and let it come out as a seedling
You will not receive your flowers from day 1. You have to wait for it
Be Happy with mere fact that you are investing in yourself. Give yourself a pat whenever you invest in you. Feel happy about it
When Your Bright, Colorful and Happy flower finally bloom, world will be in awe of you
I wish you all the happiness you deserve on this World Happiness Day.